Tile Cleaning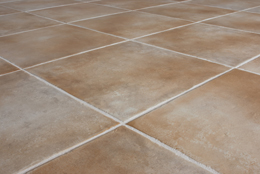 Most tiles need to be grouted, and the grout and other surfaces can quickly turn ugly if not cleaned properly and regularly. Typically, there is a lack of attention paid to cleaning and protecting tile and grouting appropriately, creating a dull and dingy appearance. Our process scrubs the tile and grout deep down to leave you with sparkling clean tile and grout.
Grout Sealing
We also offer grout sealing to prevent dirt and mildew from invading the grout; this keeps your grout cleaner longer and leaves your grout easier to clean in the future.
Grout Coloring
Don't like the color of your grouting?We can re-color it with a choice of twelve different colors.