Hardwood Floor Cleaning Canon City CO
Hardwood flooring can easily improve the overall look and feel to your home. Unfortunately, it can also be quite difficult to care for over the years. To simply replace hardwood flooring because it is scuffed and overly-dirty is an incredibly large investment. Instead of attempting to clean your wood flooring yourself or replacing it entirely, you should utilize our hardwood floor cleaning services to get the job done. There are a multitude of benefits that will come when you have your flooring professionally cleaned by experts. Benefits of Professionally Cleaning Hardwood Flooring Hardwood flooring looks beautiful when it is cleaned, but it can easily look dull and scuffed if it is not cleaned professionally on a routine basis. You may think that your floors need to be redone or polished entirely, but they might simply need a very good clean. Hiring our experts to clean your flooring for you is beneficial because we will use more commercialized and specialized tools and cleaning agents to get the job done. These are tools you may not have yourself or cleaning products that you simply do not have access to get to in a local store.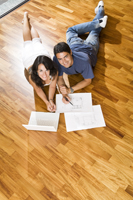 We also want to make sure that your floors stay looking their best for quite some time after the cleaning has been done. We use a range of polishing tools and products to give the floor a slip-free shine that you're going to absolutely love. This makes your flooring look beautiful weeks and months after it has been cleaned by our professionals. This is simply something that you cannot accomplish on your own with typical products and tools. You will also find that having the floors professionally cleaned will allow the home to generally look cleaner and brighter. Dull floors that have not been well-cleaned in awhile can make your whole house look dull and dreary. Our professional services are incredibly beneficial to those who would like to have gorgeous wood flooring that they don't have to invest the time in themselves. If you're currently noticing that your floors are looking quite dull and lifeless, it's time to consider having us come in to remedy the problem for you. Your house will look gorgeous after the flooring has been cleaned, and this is ideal for anyone who would like to sell their home and list it on the market. It's a project within the home that is definitely going to help you with this particular task. Our professionals can clean your hardwood flooring in a manner that simply cannot be done on your own, so it's vital that you consider contacting us if you would like us to get those floors cleaned directly for you.